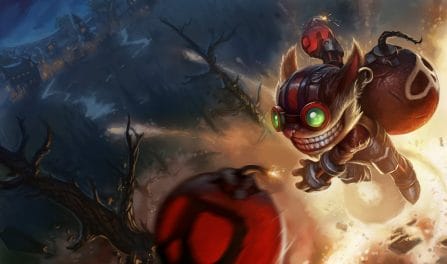 144,661 爆破鬼才 Matches Analyzed
These champion stats were computed using 144,661 recently played, ranked 爆破鬼才 games. MOBA Champion downloads competitive match summaries directly from Riot's own database. Having a large number of LoL games to evaluate gives us great confidence in our ability to provide accurate 爆破鬼才 statistics. He did do a great job in recent matches. He has a decent win rate of 53%.
In the current meta, 爆破鬼才 is incredibly popular. He has been played in 7.8% of recently ranked games. He is sometimes banned during champion select. Obviously, some players see him as a substantial threat. In the latest ranked rounds, 爆破鬼才 was banned 5.4% of the time.
Thanks to 爆破鬼才's K/D/A and utility, he has a pretty good overall win rate. He does very well in the late game, with a winrate of NaN% in that phase. Unfortunately, he does poorest in the late game, where 爆破鬼才's win rate is NaN%., The difference between his best and worst game phases is a large NaN%. This sizeable difference shows us that his power spikes and wanes in different phases of the game. Prepare well.
You can see him most often laning in the bottom position. The top win rate position for 爆破鬼才 is bottom ([object Object]%). At this time, 爆破鬼才's meta game is focused on dealing damage. In particular, his kit should mainly be focused on magical damage. Dealing physical damage is the least important part of 爆破鬼才's kit.
You should expect to have to to spend only a little bit of time practicing and learning to pick up 爆破鬼才. Most League of Legends players think he is one of the most basic champ to master. 爆破鬼才 primarily does magic damage (96% of his total damage). He doesn't deal a lot of other damage types and should not be considered a hybrid damage dealer..
爆破鬼才 deals tons of damage in a typical round (23,517 damage). You should focus on developing him as a damage dealing champ to destroy your opponents.
炸弹越大越好,引线越短越好,带着这种喜好的约德尔人吉格斯就是天生的爆炸狂人。他曾是皮尔特沃夫一位发明家的助手,不过因为自己千篇一律的生活而感到无聊,后来和一个名为金克丝的蓝头发小疯子交上了朋友。疯狂的城中一夜过后,吉格斯接受了她的建议,搬到了祖安,在那里更加自由地探索自己着迷的东西。在他对于爆炸的无尽追寻过程中,一直恐吓着炼金男爵和普通市民之流。
If you are looking for a dominating damage dealer, then you should maybe consider this champion. He has one of the top kill rates in League among all champs. Additionally, he has a relatively typical average champion death rate (5.5 deaths). Moreover, 爆破鬼才 has a high KDA ratio (2.5) with 8.6 assists.
We comb through millions of League of Legends matches pulled directly from Riot's servers each week and analyze the data using advanced algorithms to bring you the most accurate 爆破鬼才 stats online. We analyze the data by tier, so you can find the most relevant 爆破鬼才 win rate and other stats.