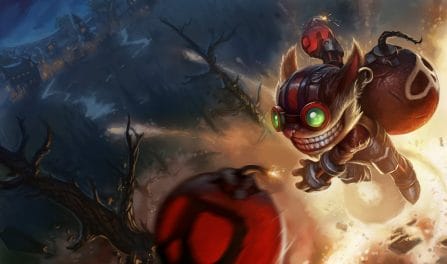 128,160 爆破鬼才 Builds Analyzed
The most essential items to use in your Ziggs build include: Liandry's Anguish, Seraph's Embrace, Rabadon's Deathcap, and Banshee's Veil. Moreover, as with our rune recommendations, you can also find great, dedicated, Ziggs item builds further down for the particular enemy team composition you are fighting in your ongoing match. Those who included these items in their setups had a better win rate than those who tried for other Ziggs builds.
爆破鬼才

Items to Defeat Focused Team Comps

奥术彗星

法力流系带

超然

焦灼

时间扭曲补药

神奇之鞋
If you are fighting a varied enemy team composition, you should strongly consider getting him the Arcane Comet, Manaflow Band, Absolute Focus, Gathering Storm, Perfect Timing, and Biscuit Delivery runes. In recent games, he won the largest fraction of his matches when equiped with these runes. However, if you are fighting a more single focused enemy team comp, such as an AD heavy or a CC centric team, you should instead scrollbrowse a little below to get the best Ziggs runes to win your particular round.
爆破鬼才

Runes to Beat Dedicated Enemy Teams

奥术彗星

法力流系带

超然

风暴聚集

饼干配送

时间扭曲补药
Our Ziggs builds result from our examination of 128,160 recently ranked Ziggs matches. Only the best win rate Ziggs builds that are also in common use are advised by us. Because we have so many rounds in our dataset, we are confident that we can generate the highest quality builds for Ziggs to help you win your next game!
Additionally, to see the best Ziggs build from a different skill rank, you can pick a different skill tier from the dropdown above. The ideal Ziggs builds will update to characterize that skill level's meta.