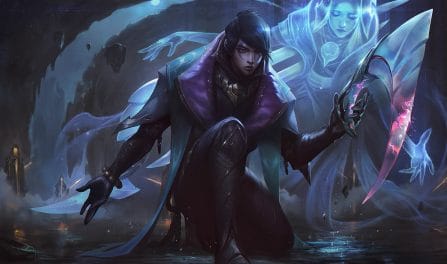 Best Aphelios Items, Runes, and Tips to Win Your Next Game
189,900 Aphelios Builds Analyzed
We set our Aphelios build guidance by examining 189,900 recently ranked League of Legends games with him selected. We only advise the highest winrate Aphelios builds that were used by ranked LoL players enough times for us to advise them. With so many rounds in our data, we are very confident in our provided builds.
Additionally, to view Aphelios builds specific to a unique skill level, pick your desired tier from the dropdown menu located above. If you change the selection, the best Aphelios build given will capture that division's meta gameplay.
Best Items for Your

Aphelios

Build
The best items to include in your champion's build include: Immortal Shieldbow,Guardian Angel, and The Collector. Players who included these items in their setups had a higher winrate than those who utilized other Aphelios builds.
Furthermore, like our rune builds, you can also get quality, dedicated, Aphelios item builds just below for the specific enemy team setup you are playing in your ongoing match.
Aphelios

Items to Defeat Focused Team Comps
Best

Aphelios

Runes for Your Next Build

Conqueror

Presence of Mind

Legend: Bloodline

Cut Down

Nimbus Cloak

Gathering Storm
If you are trying to beat a well-mixed enemy team comp, you should really consider grabbing yourself the Precision, and Sorcery runes. In recent games, he won the greatest fraction of his games when equipped with these runes.
However, if you are facing a singular enemy team composition, such as an AD centric or a CC heavy team, you should instead look further down to view the best Aphelios runes to win your particular round.
Aphelios

Runes to Beat Dedicated Enemy Teams

Press the Attack

Presence of Mind

Legend: Bloodline

Coup de Grace

Taste of Blood

Ravenous Hunter