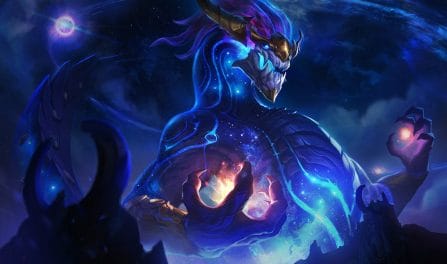 The Best Aurelion Sol Runes, Items, and Advice to Dominate Your Competition
14,679 Aurelion Sol Builds Analyzed
Best Items for Your

Aurelion Sol

Build
The best items to use in your Aurelion Sol build include: Luden's Tempest, Rabadon's Deathcap, Void Staff, and Zhonya's Hourglass. Moreover, as with our rune advice, you can also get quality, dedicated, Aurelion Sol item builds farther down for the particular enemy team comp you are facing in your current match. Those who included these items in their builds had a much higher winrate than players who tried for other Aurelion Sol builds.
Aurelion Sol

Items to Defeat Focused Team Comps
Best

Aurelion Sol

Runes for Your Next Build

Electrocute

Cheap Shot

Ghost Poro

Relentless Hunter

Manaflow Band

Gathering Storm
If you are trying to beat a well-mixed enemy team comp, you should really consider grabbing him the Electrocute, Cheap Shot, Ghost Poro, Relentless Hunter, Manaflow Band, and Gathering Storm runes. In recent games, he won the largest percentage of his matches when using these runes. However, if you are trying to beat a more single focused enemy team comp, such as an AD heavy or a CC heavy team, you should instead scrollbrowse a little below to view the best Aurelion Sol runes to defeat your particular combination of foes.
Aurelion Sol

Runes to Beat Dedicated Enemy Teams

Electrocute

Taste of Blood

Eyeball Collection

Ravenous Hunter

Time Warp Tonic

Biscuit Delivery
Guide to Playing with

Aurelion Sol
Starsurge is good at disabling enemies in an AOE when it's fully expanded. You can ensure that it expands fully by casting it from a distance and then using Comet of the Legend to gain move speed and follow the core, letting it grow.
Voice of Light can be used to deal massive damage during team fights and also push back the enemy champions, causing them to break their positioning.
We set our Aurelion Sol build recommendations by analyzing 14,679 recently ranked League of Legends rounds with him selected. We only recommend the highest winrate Aurelion Sol builds that have been built by ranked players enough times for us to reccomend them. With so many rounds in our dataset, we are confident in our provided builds.
Additionally, Aurelion Sol builds dedicated to a particular skill rank can be viewed by selecting another division from the dropdown menu found above. The suggested Aurelion Sol build shown will be focused on that tier's meta.