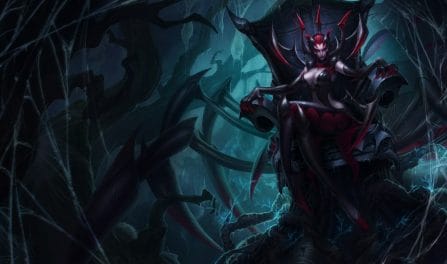 The Best Elise Runes, Items, and Advice to Dominate Your Competition
29,262 Elise Builds Analyzed
Best Items for Your

Elise

Build
The best items to use in your Elise build include: Hextech Rocketbelt, Lich Bane, Banshee's Veil, and Void Staff. Additionally, like our rune suggestions, you can also find great, dedicated, Elise item builds farther down for the particular enemy team composition you are fighting in your ongoing match. Players who added these pieces in their gear had a greater winrate than those who worked towards other Elise builds.
Elise

Items to Defeat Focused Team Comps
Best

Elise

Runes for Your Next Build

Dark Harvest

Sudden Impact

Eyeball Collection

Relentless Hunter

Triumph

Legend: Alacrity
If you are playing a well-mixed enemy team comp, you should really consider grabbing her the Dark Harvest, Sudden Impact, Eyeball Collection, Relentless Hunter, Triumph, and Legend: Alacrity runes. In recent games, she won the greatest percentage of her matches when equiped with these runes. Yet, if you are fighting a more homogenous enemy team composition, such as an AD focused or a crowd control focused team, you should instead scrollbrowse a little below to use the best Elise runes to defeat your particular set of opponents.
Elise

Runes to Beat Dedicated Enemy Teams

Dark Harvest

Cheap Shot

Eyeball Collection

Ravenous Hunter

Nimbus Cloak

Waterwalking
Guide to Playing with

Elise
Use Spider Form when killing enemies with low health, and Human Form when fighting full-health enemies.
If you use Venomous Bite on a unit when in Spider Form, Spiderlings will attack that target.
We came up with our Elise build suggestions by analyzing 29,262 recently ranked League of Legends games with her in them. We only advise the highest winrate Elise builds that were built by ranked players enough times for us to propose them. With so many rounds in our dataset, we are confident in our suggested builds.
Additionally, to see Elise builds customized to a particular skill level, pick your desired rank from the dropdown menu located above. In that case, the best Elise build given will reflect that division's meta.