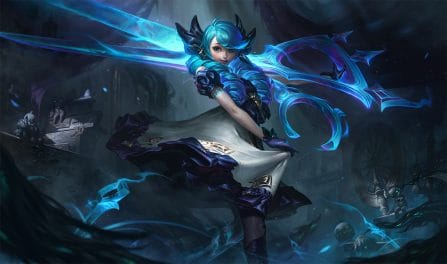 Best Gwen Items, Runes, and Tips to Win Your Next Game
109,867 Gwen Builds Analyzed
Our Gwen builds come from our evaluation of 109,867 recently ranked Gwen games. Only the top winrate Gwen builds that are also in common use are recommended by us. Since we have so many matches in our data, we are very confident that we can show you the best quality builds for n to help ensure you win your next match!
Additionally, Gwen builds dedicated to a unique skill division can be seen by choosing another tier from the dropdown menu located above. The recommended Gwen build shown will be specific to that division's meta.
Best Items for Your

Gwen

Build
The most important items to include in your champion's build include: Riftmaker,Rabadon's Deathcap, and Nashor's Tooth. Those who added these items in their builds had a much better winrate than those who worked towards other Gwen builds.
Yet, similar to our rune builds, you can also get quality, focused, Gwen item builds below for the particular enemy team composition you are battling in your next match.
Gwen

Items to Defeat Focused Team Comps
Best

Gwen

Runes for Your Next Build

Conqueror

Presence of Mind

Legend: Alacrity

Last Stand

Ravenous Hunter

Sudden Impact
If you are fighting a well-mixed enemy team composition, you should strongly consider getting yourself the Precision, and Domination runes. In recent matches, she won the greatest fraction of her matches when equipped with these runes.
However, if you are trying to beat a more single focused enemy team comp, such as an AP centric or a tank focused team, you should instead look a little down to find the best Gwen runes to defeat your particular set of opponents.
Gwen

Runes to Beat Dedicated Enemy Teams

Conqueror

Triumph

Legend: Alacrity

Last Stand

Sudden Impact

Ravenous Hunter