Irelia

Win Rate and Stats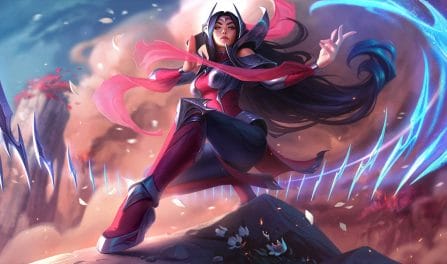 Champion Statistics and Meta Breakdown for Irelia in LoL
192,980 Irelia Matches Analyzed
These champ stats were computed using 192,980 recently played, ranked Irelia matches. MOBA Champion downloads ranked game results directly from Riot's servers. Having a large number of LoL games to analyze gives us great confidence in our ability to provide accurate Irelia stats. She did do a good job in recent rounds. She racked up a decent win rate of 51.4%.
Irelia has been picked a lot in recent ranked League matches. In the current meta, her popularity is 6.4%. A lot of players see her as a threat. She has been banned in about 14.7% of League of Legends games.
If you are looking for a dominating carry, then you should definitely consider this champ. She has the 1st highest kill rate in the game among other tops. (34 champs in total are usually picked for the top position.) Furthermore, she has a fairly high average death rate (7 deaths; 2nd out of all tops). Furthermore, Irelia's KDA is typically low with an average KDA ratio of 1.9 as well as 5 assists per match. This is the 26th best assist count among top champs.
Irelia

Win Rate Over Time
As a result of Irelia's K/D/A and utility, she has a pretty good overall win rate. She does very well in the early game, with a winrate of 51.0% in that phase. Unfortunately, she does poorest in the late game, where Irelia's win rate is 50.5%. The difference between her best and worst game phases is only 0.5%. This small difference makes it clear that her relative power is consistent throughout the whole match.
Irelia is played mostly in the top position. This occurs in 60% of her games. Yet, mid Irelia has the highest win rate (51.0%) of all positions but is less popular of a position (played 34% of the time). Currently, Irelia's meta game is centered around dealing damage. Specifically, her build should mostly be centered around physical damage. Moreover, she is an ok damage dealer champion. Tanking is the least critical part of Irelia's gameplay.
If you are not comfortable with Irelia's abilities and tactics, you may find it difficult trying her out for the first time. Many competitors consider her to not be a difficult champ to pick up. Irelia primarily causes physical damage (66% of her total damage). She also deals a significant amount of magical damage and should be played as a hybrid damage dealer.
Irelia deals a good amount of damage during a typical game (19,585 damage). You could focus on developing her as a powerful champion to smash your opponents.
The Noxian occupation of Ionia produced many heroes, none more unlikely than young Irelia of Navori. Trained in the ancient dances of her province, she adapted her art for war, using the graceful and carefully practised movements to levitate a host of...
We comb through millions of League of Legends matches pulled directly from Riot's servers each week and analyze the data using advanced algorithms to bring you the most accurate Irelia stats online. We analyze the data by tier, so you can find the most relevant Irelia win rate and other stats.