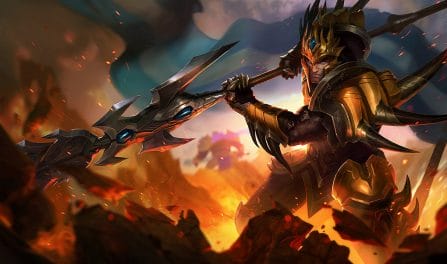 The Best Jarvan IV Runes, Items, and Advice to Dominate Your Competition
61,390 Jarvan IV Builds Analyzed
Best Items for Your

Jarvan IV

Build
The most important items to include in your Jarvan IV build include: Duskblade of Draktharr, Lord Dominik's Regards, Youmuu's Ghostblade, and Serpent's Fang. Yet, as with our rune setups, you can also get great, focused, Jarvan IV item builds farther down for the particular enemy team comp you are playing in your ongoing match. Those who added these items in their kits had a greater winrate than those who used other builds for Jarvan IV.
Jarvan IV

Items to Defeat Focused Team Comps
Best

Jarvan IV

Runes for Your Next Build

Conqueror

Triumph

Legend: Alacrity

Last Stand

Transcendence

Waterwalking
If you are trying to beat a well-mixed enemy team comp, you should really consider grabbing Jarvan IV the Conqueror, Triumph, Legend: Alacrity, Last Stand, Transcendence, and Waterwalking runes. In recent matches, he won the greatest percentage of his games when built with these runes. Yet, if you are trying to beat a different enemy team comp, such as an AP focused or a CC focused team, you should instead look further down to find the best Jarvan IV runes to defeat your particular combination of foes.
Jarvan IV

Runes to Beat Dedicated Enemy Teams

Conqueror

Triumph

Legend: Alacrity

Coup de Grace

Cheap Shot

Ravenous Hunter
Guide to Playing with

Jarvan IV
Jarvan's best combo is Demecian Standard followed by Dragon Strike as an initiating tool or quick escape.
Jarvan's ultimate, Cataclysm, creates a circle of impassible terrain that can disrupt enemy team formations and split up the enemy team to isolate specific champions.
Jarvan's Golden Aegis provides a shield that can protect against enemy damage and slow them for a short while.
Our Jarvan IV builds come from our analysis of 61,390 recently ranked Jarvan IV games. Only the best win rate Jarvan IV builds that are also commonly used are suggested by us. Because we have so many games in our database, we are absolutelysure that we can generate high quality builds for Jarvan IV to help you win your next match!
Additionally, to see Jarvan IV builds tailored to a particular division, select a different rank from the dropdown menu located above. If you change the selection, the proposed Jarvan IV build given will be based on that division's meta game.