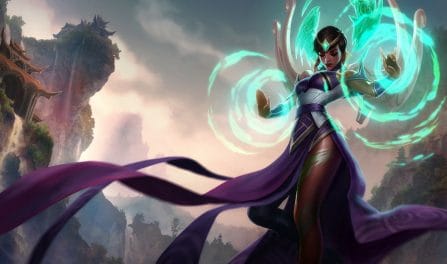 The Best Karma Runes, Items, and Advice to Dominate Your Competition
71,265 Karma Builds Analyzed
Best Items for Your

Karma

Build
The most important items to incorporate into your Karma build are: Moonstone Renewer, Redemption, Mikael's Blessing, and Staff of Flowing Water. Furthermore, as with our rune setups, you can also find quality, dedicated, Karma item builds further down for the specific enemy team comp you are battling in your ongoing game. Those who added these pieces in their kits had a greater win rate than players who used other Karma builds.
Karma

Items to Defeat Focused Team Comps
Best

Karma

Runes for Your Next Build

Summon Aery

Nullifying Orb

Transcendence

Gathering Storm

Font of Life

Revitalize
If you are playing a mixed enemy team comp, you should really consider grabbing Karma the Summon Aery, Nullifying Orb, Transcendence, Gathering Storm, Font of Life, and Revitalize runes. In recent matches, she won the largest percentage of her matches when built with these runes. However, if you are battling a more homogenous enemy team composition, such as an AP centric or a crowd control focused team, you should instead look a little down to get the best Karma runes to defeat your particular enemy team.
Karma

Runes to Beat Dedicated Enemy Teams

Arcane Comet

Manaflow Band

Transcendence

Scorch

Revitalize

Font of Life
Guide to Playing with

Karma
Karma is a ranged champion that excels in quick engages during the laning phase. You can harass the enemy with Inner Flare or hit the creep wave to help your partner last hit
If you make Focused Resolve's tether duration complete, you can root enemies and then use Flare to deal more damage.
Our Karma builds result from our evaluation of 71,265 recently ranked Karma matches. Only the top win rate Karma builds that are also commonly used are advised by us. Because we have so many matches in our database, we are quite confident that we can give you the highest quality builds for Karma to help ensure you win your next match!
Additionally, to see Karma builds specific to a particular skill level, pick your desired division from the dropdown menu located above. If you select a different division, the proposed Karma build given will reflect that tier's meta gameplay.