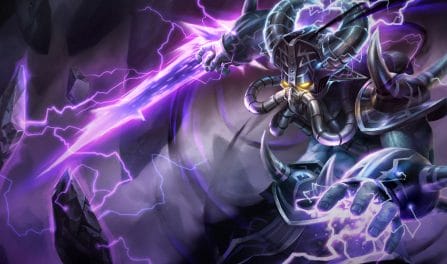 The Best Kassadin Runes, Items, and Advice to Dominate Your Competition
43,792 Kassadin Builds Analyzed
Best Items for Your

Kassadin

Build
The best items to include in your Kassadin build include: Riftmaker, Seraph's Embrace, Frozen Heart, and Cosmic Drive. Additionally, like our rune suggestions, you can also find great, dedicated, Kassadin item builds further down for the specific enemy team composition you are battling in your ongoing game. Players who included these items in their kits had a much higher win rate than those who used other builds for Kassadin.
Kassadin

Items to Defeat Focused Team Comps
Best

Kassadin

Runes for Your Next Build

Summon Aery

Manaflow Band

Transcendence

Scorch

Taste of Blood

Ravenous Hunter
If you are battling a well-mixed enemy team comp, you should really consider grabbing yourself the Summon Aery, Manaflow Band, Transcendence, Scorch, Taste of Blood, and Ravenous Hunter runes. In recent games, he won the greatest percentage of his rounds when built with these runes. However, if you are fighting a more homogenous enemy team comp, such as an AD heavy or a CC centric team, you should instead scrollbrowse further down to view the best Kassadin runes to defeat your particular set of opponents.
Kassadin

Runes to Beat Dedicated Enemy Teams

Electrocute

Taste of Blood

Eyeball Collection

Ultimate Hunter

Coup de Grace

Presence of Mind
Guide to Playing with

Kassadin
Kassadin needs to be careful during the laning phase because he has little mobility early on and can only get last hits in melee range.
Make sure the enemy team is focused on your allies before entering a teamfight, never be the one to initiate or be in the front lines.
We came up with our Kassadin build recommendations by examining 43,792 recently ranked LoL rounds with him selected. We only advise the highest winrate Kassadin builds that were built by ranked League players enough times for us to advise them. With so many matches in our data, we are very confident in our recommended builds.
Additionally, to see the best Kassadin build from a different skill division, you can choose a different one from the dropdown above. The proposed Kassadin builds will change to characterize that division's meta.