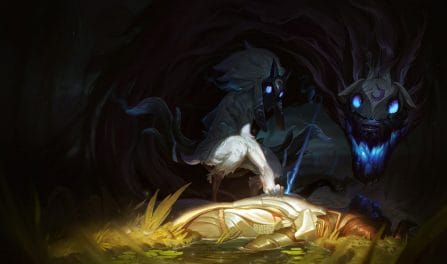 The Best Kindred Runes, Items, and Advice to Dominate Your Competition
63,019 Kindred Builds Analyzed
Best Items for Your

Kindred

Build
The most essential items to use in your Kindred build are: Kraken Slayer, Infinity Edge, Lord Dominik's Regards, and Essence Reaver. Yet, like our rune suggestions, you can also get quality, dedicated, Kindred item builds further down for the specific enemy team composition you are facing in your current match. Players who included these items in their gear had a much better winrate than players who utilized other builds for Kindred.
Kindred

Items to Defeat Focused Team Comps
Best

Kindred

Runes for Your Next Build

Conqueror

Triumph

Legend: Bloodline

Cut Down

Absolute Focus

Gathering Storm
If you are playing a well-mixed enemy team composition, you should really consider grabbing Kindred the Conqueror, Triumph, Legend: Bloodline, Cut Down, Absolute Focus, and Gathering Storm runes. In recent matches, they won the largest percentage of theirs games when using these runes. Yet, if you are trying to beat a different enemy team comp, such as an AP heavy or a tank centric team, you should instead scrollbrowse further down to find the best Kindred runes to win your particular match.
Kindred

Runes to Beat Dedicated Enemy Teams

Conqueror

Triumph

Legend: Alacrity

Cut Down

Zombie Ward

Ravenous Hunter
Guide to Playing with

Kindred
Dance of Arrows allows Kindred to jump over walls.
Use Wolf's Frenzy in the middle of a teamfight because Kindred's wolf will attack enemies within the AOE for 8.5 seconds.
We came up with our Kindred build suggestions by analyzing 63,019 recently ranked League games with them in them. We only recommend the highest winrate Kindred builds that have been built by ranked gamers enough times for us to suggest them. With so many games in our data, we are quite confident in our provided builds.
Additionally, Kindred builds specific to a unique skill division can be seen by selecting a different rank from the dropdown menu located above. The best Kindred build shown will be specific to that division's meta.