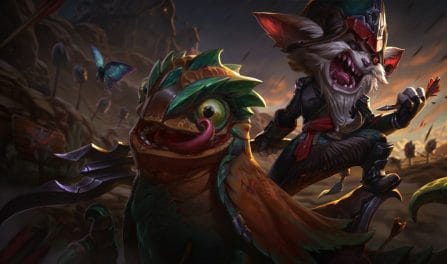 The Best Kled Runes, Items, and Advice to Dominate Your Competition
32,431 Kled Builds Analyzed
Best Items for Your

Kled

Build
The most critical items to incorporate into your Kled build include: Stridebreaker, Guardian Angel, Black Cleaver, and Ravenous Hydra. Furthermore, similar to our rune advice, you can also get great, dedicated, Kled item builds farther down for the particular enemy team composition you are battling in your ongoing match. Those who added these pieces in their setups had a much better win rate than players who tried for other Kled builds.
Kled

Items to Defeat Focused Team Comps
Best

Kled

Runes for Your Next Build

Conqueror

Triumph

Legend: Alacrity

Coup de Grace

Unflinching

Demolish
If you are playing a well-mixed enemy team comp, you should really consider grabbing Kled the Conqueror, Triumph, Legend: Alacrity, Coup de Grace, Unflinching, and Demolish runes. In recent matches, he won the largest fraction of his rounds when equiped with these runes. Yet, if you are facing a different enemy team comp, such as an AP centric or a crowd control centric team, you should instead look further down to see the best Kled runes to win your particular game.
Kled

Runes to Beat Dedicated Enemy Teams

Conqueror

Triumph

Legend: Alacrity

Last Stand

Second Wind

Revitalize
Guide to Playing with

Kled
Kled's gains more courage when he damages enemy champions and turrets, so prioritize those units during a teamfight.
The 4th hit of Violent Tendencies deals more damage than the first 3. Time the last hit on an enemy champion for good damage output.
We set our Kled build recommendations by examining 32,431 recently ranked LoL rounds with him in them. We only advise the best winrate Kled builds that have been used by ranked League players enough times for us to advise them. With so many rounds in our data, we are confident in our provided builds.
Additionally, to get Kled builds specific to a unique division, select your desired division from the dropdown menu located above. If you select a different division, the best Kled build given will be based on that division's meta gameplay.