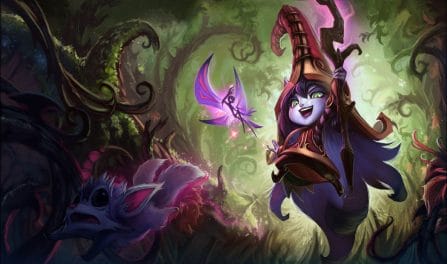 The Best Lulu Runes, Items, and Advice to Dominate Your Competition
112,563 Lulu Builds Analyzed
Best Items for Your

Lulu

Build
The best items to include in your Lulu build include: Shurelya's Requiem, Chemtech Putrifier, Ardent Censer, and Staff of Flowing Water. Additionally, similar to our rune advice, you can also get quality, dedicated, Lulu item builds further down for the particular enemy team composition you are fighting in your ongoing game. Those who included these items in their builds had a much higher winrate than players who tried for other builds for Lulu.
Lulu

Items to Defeat Focused Team Comps
Best

Lulu

Runes for Your Next Build

Summon Aery

Nimbus Cloak

Transcendence

Gathering Storm

Font of Life

Revitalize
If you are fighting a varied enemy team comp, you should strongly consider getting Lulu the Summon Aery, Nimbus Cloak, Transcendence, Gathering Storm, Font of Life, and Revitalize runes. In recent games, she won the greatest percentage of her games when built with these runes. However, if you are playing a more single focused enemy team comp, such as an AD heavy or a CC focused team, you should instead look a little below to see the best Lulu runes to win your particular game.
Lulu

Runes to Beat Dedicated Enemy Teams

Summon Aery

Manaflow Band

Transcendence

Gathering Storm

Cosmic Insight

Future's Market
Guide to Playing with

Lulu
Cast Whimsy on allies to give them a movement boost, or on enemies to disable them.
Your role is to protect allied champions and harass the enemy. Stay close to your carries to protect them with Wild Growth and Whimsy.
We set our Lulu build recommendations by examining 112,563 recently ranked League rounds with her in them. We only recommend the highest winrate Lulu builds that were used by ranked LoL players enough times for us to propose them. With so many matches in our dataset, we are quite confident in our recommended builds.
Additionally, to view Lulu builds dedicated to a unique skill level, choose a different division from the dropdown menu located above. In that case, the proposed Lulu build given will capture that division's meta.