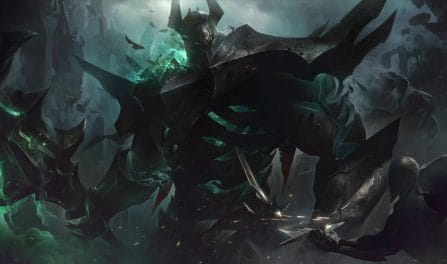 The Best Mordekaiser Runes, Items, and Advice to Dominate Your Competition
147,974 Mordekaiser Builds Analyzed
Best Items for Your

Mordekaiser

Build
The most critical items to include in your Mordekaiser build include: Riftmaker, Spirit Visage, Rabadon's Deathcap, and Cosmic Drive. Moreover, like our rune recommendations, you can also get quality, dedicated, Mordekaiser item builds further down for the specific enemy team comp you are fighting in your ongoing match. Players who included these items in their kits had a greater winrate than those who used other Mordekaiser builds.
Mordekaiser

Items to Defeat Focused Team Comps
Best

Mordekaiser

Runes for Your Next Build

Conqueror

Triumph

Legend: Alacrity

Coup de Grace

Cheap Shot

Ultimate Hunter
If you are trying to beat a varied enemy team composition, you should really consider grabbing Mordekaiser the Conqueror, Triumph, Legend: Alacrity, Coup de Grace, Cheap Shot, and Ultimate Hunter runes. In recent games, he won the largest percentage of his rounds when built with these runes. Yet, if you are battling a more homogenous enemy team comp, such as an AP heavy or a tank centric team, you should instead look below to find the best Mordekaiser runes to defeat your particular combination of foes.
Mordekaiser

Runes to Beat Dedicated Enemy Teams

Conqueror

Triumph

Legend: Alacrity

Last Stand

Demolish

Revitalize
Guide to Playing with

Mordekaiser
Iron Man gives Morkerkaiser a shield reducing incoming damage; this works well when you've hit enemies with your skills.
Use Children of the Grave on enemy ADRs because the ghost versions only do basic attacks. This can dramatically shift a teamfight as you have the additional damage of their ADR on your side.
Our Mordekaiser builds come out of our analysis of 147,974 recently ranked Mordekaiser games. Only the top winrate Mordekaiser builds that are also in common use are advised by us. Since we have so many games in our database, we are confident that we can give you high quality builds for Mordekaiser to help you win your next match!
Additionally, Mordekaiser builds specific to a particular skill division can be displayed by choosing another division from the dropdown menu located above. The suggested Mordekaiser build shown will be focused on that division's meta.