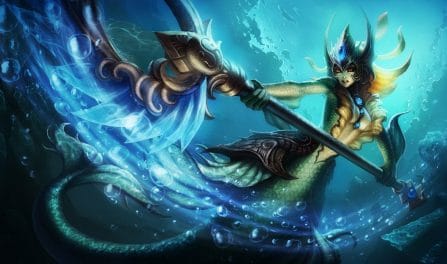 The Best Nami Runes, Items, and Advice to Dominate Your Competition
71,856 Nami Builds Analyzed
Best Items for Your

Nami

Build
The most essential items to incorporate into your Nami build are: Imperial Mandate, Chemtech Putrifier, Rabadon's Deathcap, and Ardent Censer. Additionally, similar to our rune setups, you can also get great, focused, Nami item builds further down for the specific enemy team composition you are fighting in your current game. Players who added these items in their kits had a higher winrate than those who tried for other Nami builds.
Nami

Items to Defeat Focused Team Comps
Best

Nami

Runes for Your Next Build

Guardian

Font of Life

Conditioning

Revitalize

Presence of Mind

Legend: Tenacity
If you are playing a well-mixed enemy team comp, you should strongly consider getting yourself the Guardian, Font of Life, Conditioning, Revitalize, Presence of Mind, and Legend: Tenacity runes. In recent matches, she won the largest fraction of her matches when built with these runes. However, if you are facing a different enemy team comp, such as an AP focused or a tank heavy team, you should instead scrollbrowse below to use the best Nami runes to win your particular game.
Nami

Runes to Beat Dedicated Enemy Teams

Guardian

Font of Life

Bone Plating

Revitalize

Cosmic Insight

Biscuit Delivery
Guide to Playing with

Nami
Cast Tidecaller's Blessing on your ADC or whichever ally that has strong attack damage.
Learn how to carefully time your Aqua Prison because it has a small cast range.
Engage with the Tidal Wave and Aqua Prison combo.
Our Nami builds result from our examination of 71,856 recently ranked Nami rounds. Only the top winrate Nami builds that are also in common use are suggested by us. Because we have so many games in our dataset, we are very sure that we can produce the highest quality builds for Nami to help you win your next game!
Additionally, to see the top Nami build for a different skill rank, please choose a different skill tier from the dropdown above. The ideal Nami builds will change to characterize that skill level's meta.