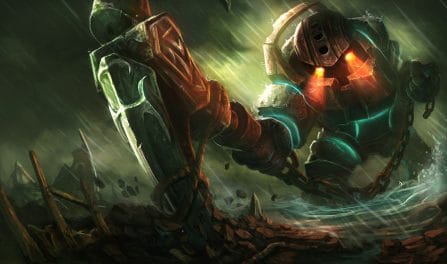 The Best Nautilus Runes, Items, and Advice to Dominate Your Competition
112,704 Nautilus Builds Analyzed
Best Items for Your

Nautilus

Build
The most essential items to incorporate into your Nautilus build are: Locket of the Iron Solari, Abyssal Mask, Thornmail, and Dead Man's Plate. Furthermore, similar to our rune builds, you can also get great, focused, Nautilus item builds further down for the particular enemy team comp you are battling in your ongoing match. Players who included these pieces in their kits had a higher winrate than those who went for other builds for Nautilus.
Nautilus

Items to Defeat Focused Team Comps
Best

Nautilus

Runes for Your Next Build

Guardian

Shield Bash

Bone Plating

Revitalize

Biscuit Delivery

Time Warp Tonic
If you are playing a mixed enemy team composition, you should really consider grabbing yourself the Guardian, Shield Bash, Bone Plating, Revitalize, Biscuit Delivery, and Time Warp Tonic runes. In recent matches, he won the largest fraction of his rounds when built with these runes. However, if you are facing a different enemy team composition, such as an AD centric or a CC centric team, you should instead look below to get the best Nautilus runes to win your particular game.
Nautilus

Runes to Beat Dedicated Enemy Teams

Aftershock

Shield Bash

Conditioning

Revitalize

Biscuit Delivery

Cosmic Insight
Guide to Playing with

Nautilus
Activate Titan's Wrath before a teamfight or engage to maximize damage and tankiness.
Titan's Wrath shield strength scales with bonus health, so stack up on health items.
Use Depth Charge on the enemy's back line, because it will go through enemy champions and knock them up until it hits the target.
Our Nautilus builds result from our evaluation of 112,704 recently ranked Nautilus matches. Only the top winrate Nautilus builds that are also commonly used are suggested by us. Since we have so many matches in our database, we are absolutelyconfident that we can provide the highest quality builds for Nautilus to help you win your next game!
Additionally, to see the best Nautilus build for a different skill level, you can pick a different one from the dropdown menu above. The recommended Nautilus builds will change to reflect that skill level's meta.