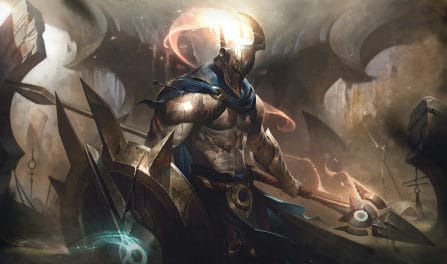 The Best Pantheon Runes, Items, and Advice to Dominate Your Competition
110,318 Pantheon Builds Analyzed
Best Items for Your

Pantheon

Build
The most essential items to incorporate into your Pantheon build include: Eclipse, Guardian Angel, Black Cleaver, and Wit's End. Additionally, as with our rune setups, you can also get great, focused, Pantheon item builds below for the particular enemy team composition you are playing in your ongoing match. Players who added these items in their kits had a higher win rate than those who tried for other builds for Pantheon.
Pantheon

Items to Defeat Focused Team Comps
Best

Pantheon

Runes for Your Next Build

Conqueror

Presence of Mind

Legend: Alacrity

Last Stand

Taste of Blood

Ravenous Hunter
If you are playing a mixed enemy team comp, you should strongly consider getting Pantheon the Conqueror, Presence of Mind, Legend: Alacrity, Last Stand, Taste of Blood, and Ravenous Hunter runes. In recent games, he won the largest fraction of his games when built with these runes. However, if you are playing a more homogenous enemy team composition, such as an AD heavy or a tank heavy team, you should instead scrollbrowse a little below to see the best Pantheon runes to defeat your particular enemy team.
Pantheon

Runes to Beat Dedicated Enemy Teams

Press the Attack

Triumph

Legend: Alacrity

Coup de Grace

Cheap Shot

Eyeball Collection
Guide to Playing with

Pantheon
Combo Aegis of Zeonia followed by Heartseeker Strike when engaging with enemies.
Grand Skyfall provides Pantheon great mobility so make sure to help teammates around the map.
Our Pantheon builds come out of our analysis of 110,318 recently ranked Pantheon games. Only the best win rate Pantheon builds that are also in common use are suggested by us. Since we have so many rounds in our database, we are sure that we can provide high quality builds for Pantheon to help ensure you win your next game!
Additionally, to see the top Pantheon build for a different skill division, please pick a different one from the dropdown above. The ideal Pantheon builds will update to reflect that division's meta.
Can Pantheon's Aegis Assault block turret shots as well?
Yes. LoL Pantheon can block tower shots. You can use this knowledge to help you survive more tower dives.
What makes Pantheon a great support in League of Legends?
Pantheon is most commonly played in the top lane; however, he can be a great support as well. His ranged CC, tankyness, and semi-global Ultimate give him a lot of utility.