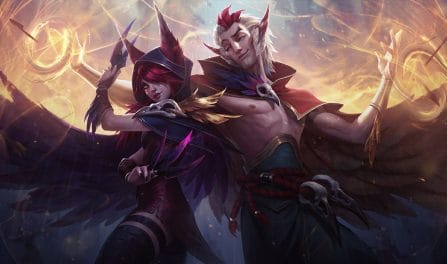 The Best Rakan Runes, Items, and Advice to Dominate Your Competition
37,720 Rakan Builds Analyzed
Best Items for Your

Rakan

Build
The best items to incorporate into your Rakan build are: Shurelya's Battlesong, Zeke's Convergence, Mikael's Blessing, and Ardent Censer. Additionally, as with our rune recommendations, you can also get great, focused, Rakan item builds farther down for the specific enemy team composition you are playing in your current game. Those who added these pieces in their kits had a better winrate than those who utilized other builds for Rakan.
Rakan

Items to Defeat Focused Team Comps
Best

Rakan

Runes for Your Next Build

Guardian

Shield Bash

Bone Plating

Revitalize

Magical Footwear

Biscuit Delivery
If you are fighting a varied enemy team composition, you should really consider grabbing Rakan the Guardian, Shield Bash, Bone Plating, Revitalize, Magical Footwear, and Biscuit Delivery runes. In recent games, he won the largest fraction of his games when built with these runes. However, if you are trying to beat a more homogenous enemy team comp, such as an AD centric or a tank heavy team, you should instead look a little below to get the best Rakan runes to win your particular match.
Rakan

Runes to Beat Dedicated Enemy Teams

Guardian

Shield Bash

Bone Plating

Revitalize

Ultimate Hunter

Zombie Ward
Guide to Playing with

Rakan
Rakan is a strong support, particularly with healing and shielding allies during teamfights. Stick to your allies to engage.
One potent combo in teamfights is Battle Dance and Grand Entrance; you can also start with the Quickness to dash and slow an enemy.
We calculated our Rakan build suggestions by examining 37,720 recently ranked League of Legends rounds with him selected. We only recommend the highest winrate Rakan builds that have been built by ranked players enough times for us to reccomend them. With so many rounds in our data, we are quite confident in our suggested builds.
Additionally, to see Rakan builds customized to a unique skill level, select your desired rank from the dropdown menu above. If you select a different division, the ideal Rakan build given will capture that division's meta.