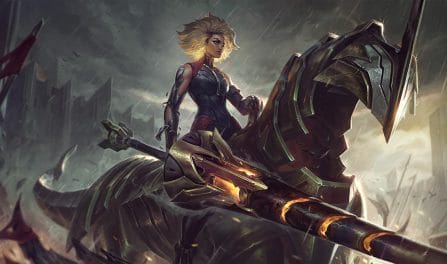 Champion Statistics and Meta Breakdown for Rell in LoL
30,299 Rell Matches Analyzed
To generate these Rell statistics, we analyzed 30,299 recent competitive LoL games with her chosen. MOBA Champion downloads ranked match results directly from Riot's servers. This allows us to be very confident in our Rell statistics. She did do a good job in recent games. She racked up an average win rate of 51.0%.
In the current meta, Rell is not at all popular. She has been played in only 1.0% of recently ranked matches. Hardly anyone sees her as a danger. She has only been banned in about 0.3% of LoL rounds.
She is a weak damage dealer in the game with 2 kills on average each game. That is the 18th highest kill count among all supports. (There are 29 champion in totals that are most commonly played in in the support position.) Additionally, she has a fairly high average death count (6 deaths; 5th out of all supports). Furthermore, Rell has an average KDA ratio (2.3) with 13 assists (13th amongst all support type champions).
Our calculated overall Rell win rate is the 9th highest amongst supports. She is most dominant in the late phase of the game with a 51.2% win rate in that stage. In contrast, she has a 48.3% win rate in the early phase and a 51.0% win rate overall. There is only a small difference between these Rell win rates (2.9%). This large difference makes it clear that her power spikes and wanes in different phases of the round. Plan well.
You will find her typically laning in the support position. The best win rate position for Rell is support (49.3%). At this time, Rell's meta game is focused on utility and support. In particular, her build should mainly be focused on team fights. Dealing physical damage is the least important part of Rell's kit.
You should anticipate having to spend only a little bit of time practicing and learning to learn Rell. Many LoL gamers believe she is a simple champion to main. Rell primarily causes magical damage (77% of her total damage). She doesn't deal a large amount of physical damage and should not be considered a hybrid damage dealer.
Rell deals only a little damage over the course of a normal match (7,808 damage). You shouldn't focus on building her as a powerful champion to defeat your foes.Instead, players should focus on covering your teammates to beat your enemy.
Magic Resist
32.1 - 53.35
The product of brutal experimentation at the hands of the Black Rose, Rell is a defiant, living weapon determined to topple Noxus. Her childhood was one of misery and horror, enduring unspeakable procedures to perfect and weaponize her magical control...
We comb through millions of League of Legends matches pulled directly from Riot's servers each week and analyze the data using advanced algorithms to bring you the most accurate Rell stats online. We analyze the data by tier, so you can find the most relevant Rell win rate and other stats.