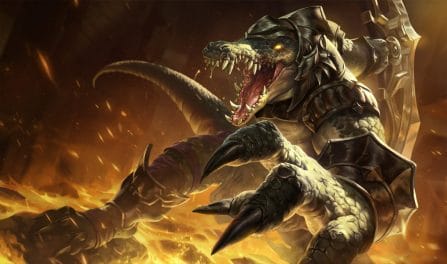 The Best Renekton Runes, Items, and Advice to Dominate Your Competition
59,161 Renekton Builds Analyzed
Best Items for Your

Renekton

Build
The best items to use in your Renekton build include: Goredrinker, Sterak's Gage, Death's Dance, and Serpent's Fang. Additionally, as with our rune advice, you can also find quality, dedicated, Renekton item builds below for the specific enemy team comp you are facing in your current match. Those who added these pieces in their gear had a much better win rate than players who worked towards other Renekton builds.
Renekton

Items to Defeat Focused Team Comps
Best

Renekton

Runes for Your Next Build

Conqueror

Triumph

Legend: Tenacity

Last Stand

Revitalize

Second Wind
If you are facing a varied enemy team comp, you should really consider grabbing him the Conqueror, Triumph, Legend: Tenacity, Last Stand, Revitalize, and Second Wind runes. In recent matches, he won the greatest fraction of his matches when equiped with these runes. Yet, if you are facing a more single focused enemy team composition, such as an AP heavy or a CC centric team, you should instead look below to view the best Renekton runes to defeat your particular combination of foes.
Renekton

Runes to Beat Dedicated Enemy Teams

Conqueror

Triumph

Legend: Tenacity

Last Stand

Second Wind

Overgrowth
Guide to Playing with

Renekton
Slice and Dice is an excellent harass tool if you can reliably land Slice. Slice in, hit your enemy, and Dice out for a clean harass.
In teamfights, you should be the main damage sponge. You Renekton Build should have at least a few items to improve your survivability.
We came up with our Renekton build recommendations by examining 59,161 recently ranked LoL rounds with him selected. We only recommend the best winrate Renekton builds that were built by ranked League players enough times for us to advise them. With so many games in our data, we are quite confident in our provided builds.
Additionally, to view Renekton builds customized to a particular skill level, pick your desired division from the dropdown menu located above. If you change the selection, the ideal Renekton build given will be based on that tier's meta gameplay.