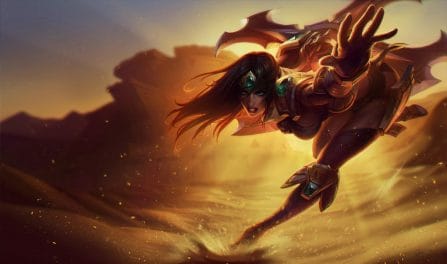 The Best Sivir Runes, Items, and Advice to Dominate Your Competition
87,746 Sivir Builds Analyzed
Best Items for Your

Sivir

Build
The most essential items to incorporate into your Sivir build include: Draktharr's Shadowcarver, Mortal Reminder, Muramana, and The Collector. Additionally, like our rune suggestions, you can also get great, focused, Sivir item builds farther down for the specific enemy team composition you are battling in your current match. Players who added these pieces in their builds had a much better winrate than those who used other builds for Sivir.
Sivir

Items to Defeat Focused Team Comps
Best

Sivir

Runes for Your Next Build

Lethal Tempo

Presence of Mind

Legend: Alacrity

Cut Down

Manaflow Band

Gathering Storm
If you are battling a varied enemy team composition, you should really consider grabbing yourself the Lethal Tempo, Presence of Mind, Legend: Alacrity, Cut Down, Manaflow Band, and Gathering Storm runes. In recent games, she won the greatest percentage of her matches when equiped with these runes. Yet, if you are playing a more homogenous enemy team comp, such as an AD focused or a crowd control heavy team, you should instead scrollbrowse a little down to use the best Sivir runes to defeat your particular combination of foes.
Sivir

Runes to Beat Dedicated Enemy Teams

Dark Harvest

Taste of Blood

Eyeball Collection

Ravenous Hunter

Scorch

Manaflow Band
Guide to Playing with

Sivir
Ricochet is an excellent harassment tool in lane. Use it liberally to get your enemy out of your lane.
Coordinate with your team when you use On the Hunt, because it gives her allies boosted movement speed for 8 seconds. Use this to plan effective ganks or initiate a teamfight.
In LoL, Sivir's Q has great range. You can even run away after you cast it without reducing its range. Use it do harass from afar or punish chaising enemies.
We established our Sivir build recommendations by examining 87,746 recently ranked LoL rounds with her in them. We only recommend the highest winrate Sivir builds that were built by ranked LoL players enough times for us to reccomend them. With so many matches in our data, we are confident in our suggested builds.
Additionally, to view the best Sivir build designed for a different skill rank, you can select a different skill tier from the dropdown above. The ideal Sivir builds will change to characterize that skill level's meta.