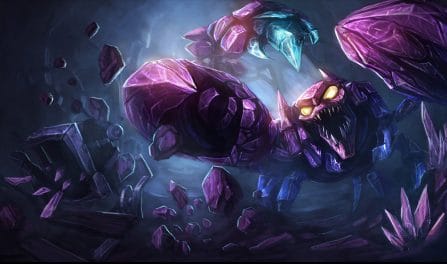 The Best Skarner Runes, Items, and Advice to Dominate Your Competition
14,849 Skarner Builds Analyzed
Best Items for Your

Skarner

Build
The most important items to include in your Skarner build include: Divine Sunderer, Sterak's Gage, Titanic Hydra, and Force of Nature. Additionally, similar to our rune advice, you can also find quality, dedicated, Skarner item builds below for the particular enemy team composition you are facing in your ongoing game. Those who added these items in their gear had a greater winrate than those who went for other Skarner builds.
Skarner

Items to Defeat Focused Team Comps
Best

Skarner

Runes for Your Next Build

Press the Attack

Triumph

Legend: Alacrity

Coup de Grace

Conditioning

Overgrowth
If you are facing a well-mixed enemy team comp, you should strongly consider getting yourself the Press the Attack, Triumph, Legend: Alacrity, Coup de Grace, Conditioning, and Overgrowth runes. In recent games, he won the greatest percentage of his games when using these runes. Yet, if you are playing a more single focused enemy team comp, such as an AP focused or a tank heavy team, you should instead scrollbrowse a little below to use the best Skarner runes to win your particular game.
Skarner

Runes to Beat Dedicated Enemy Teams

Conqueror

Triumph

Legend: Alacrity

Coup de Grace

Nimbus Cloak

Celerity
Guide to Playing with

Skarner
All of Skarner's abilities make him a potent ganker, make sure to combo all your skills to take down enemy carries early.
Initiate ganks with Fracture to slow down your target and mark them with Crystal Venom.
Follow up Fracture with an auto attack to stun your target and then hit them with Crystal Slash.
We established our Skarner build suggestions by examining 14,849 recently ranked League rounds with him in them. We only propose the highest winrate Skarner builds that have been built by ranked LoL players enough times for us to reccomend them. With so many rounds in our data, we are quite confident in our provided builds.
Additionally, to see Skarner builds dedicated to a particular skill level, pick your desired rank from the dropdown menu above. In that case, the ideal Skarner build given will capture that tier's meta game.