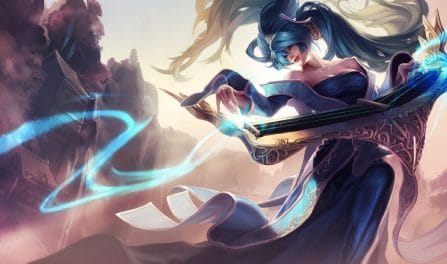 The Best Sona Runes, Items, and Advice to Dominate Your Competition
95,137 Sona Builds Analyzed
Best Items for Your

Sona

Build
The most essential items to incorporate into your Sona build include: Moonstone Renewer, Archangel's Staff, Chemtech Putrifier, and Ardent Censer. Furthermore, like our rune suggestions, you can also find great, dedicated, Sona item builds further down for the particular enemy team comp you are facing in your current match. Players who added these items in their kits had a higher win rate than those who worked towards other Sona builds.
Sona

Items to Defeat Focused Team Comps
Best

Sona

Runes for Your Next Build

Summon Aery

Manaflow Band

Celerity

Scorch

Conditioning

Revitalize
If you are playing a varied enemy team comp, you should strongly consider getting Sona the Summon Aery, Manaflow Band, Celerity, Scorch, Conditioning, and Revitalize runes. In recent matches, she won the greatest percentage of her rounds when equiped with these runes. Yet, if you are playing a more homogenous enemy team comp, such as an AD heavy or a CC centric team, you should instead scrollbrowse below to get the best Sona runes to defeat your particular set of opponents.
Sona

Runes to Beat Dedicated Enemy Teams

Guardian

Font of Life

Bone Plating

Revitalize

Manaflow Band

Transcendence
Guide to Playing with

Sona
Sona is an incredibly strong ranged support that can dramatically shift team fights. Make sure to group and tackle objectives when Sona's abilities are ready.
Try to catch as many enemy champions as possible with Crescendo. If you can get several enemies, your team can surely take them down during the stun duration.
Sona has great poke in lane. Comboing her Q and AA will allow you to deal decent damage from relative safety. Her self-heal helps reduce the impact of taking a few hits while poking.
Our Sona builds come out of our evaluation of 95,137 recently ranked Sona matches. Only the top win rate Sona builds that are also in common use are recommended by us. Since we have so many matches in our dataset, we are absolutelyconfident that we can show you high quality builds for Sona to help ensure you win your next round!
Additionally, to see the best Sona build designed for a different skill division, you can select a different skill tier from the dropdown above. The calculated Sona builds will change to characterize that division's meta.