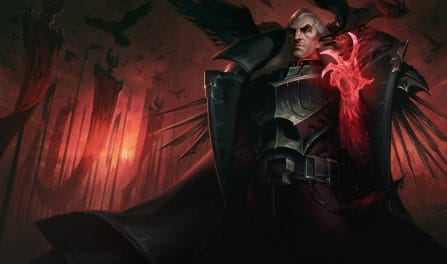 The Best Swain Runes, Items, and Advice to Dominate Your Competition
95,664 Swain Builds Analyzed
Best Items for Your

Swain

Build
The best items to incorporate into your Swain build include: Liandry's Lament, Rylai's Crystal Scepter, Zhonya's Hourglass, and Morellonomicon. Moreover, like our rune advice, you can also get great, dedicated, Swain item builds below for the specific enemy team comp you are playing in your current match. Those who added these pieces in their gear had a significantly better win rate than those who used other builds for Swain.
Swain

Items to Defeat Focused Team Comps
Best

Swain

Runes for Your Next Build

Electrocute

Cheap Shot

Zombie Ward

Ravenous Hunter

Manaflow Band

Scorch
If you are fighting a mixed enemy team comp, you should really consider grabbing yourself the Electrocute, Cheap Shot, Zombie Ward, Ravenous Hunter, Manaflow Band, and Scorch runes. In recent games, he won the largest percentage of his games when equiped with these runes. However, if you are playing a more homogenous enemy team composition, such as an AP heavy or a crowd control focused team, you should instead scrollbrowse below to use the best Swain runes to defeat your particular enemy team.
Swain

Runes to Beat Dedicated Enemy Teams

Electrocute

Cheap Shot

Eyeball Collection

Ultimate Hunter

Legend: Tenacity

Presence of Mind
Guide to Playing with

Swain
Decrepify can be used to slow down enemies and set them up for Nevermore's stun.
Using Torment on a target is also useful to enhance the damage of your other abilities.
Swain has incredible combo potential, practice timing all your abilities to get the highest damage output.
Our Swain builds come out of our evaluation of 95,664 recently ranked Swain games. Only the best win rate Swain builds that are also in common use are suggested by us. Because we have so many matches in our database, we are quite sure that we can give you high quality builds for Swain to help you win your next game!
Additionally, to get Swain builds tailored to a unique skill level, select a different rank from the dropdown menu found above. If you change the selection, the ideal Swain build given will capture that tier's meta.