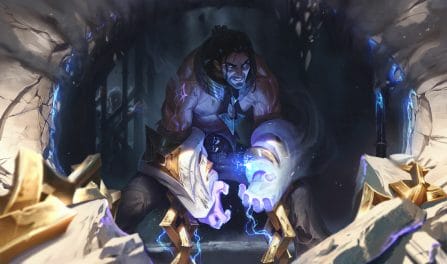 Champion Statistics and Meta Breakdown for Sylas in LoL
224,010 Sylas Matches Analyzed
To generate these Sylas stats, we reviewed 224,010 recent ranked LoL matches with him chosen. We pull competitive match stats directly from Riot's servers. This allows us to be very confident in our Sylas stats. He didn't do a great job in recent games. He has a poor win rate of 49%.
In the current meta, Sylas is incredibly popular. He has been used in 8.9% of recently ranked games. A lot of players see him as a danger. He has been banned in approximately 10.9% of LoL matches.
As a result of Sylas's K/D/A and utility, he has a somewhat poor overall win rate. He does best in the late game, with a winrate of NaN% in that phase. Unfortunately, he does terribly in the late game, where Sylas's winrate is NaN%., The difference between his best and worst game phases is a large NaN%. This sizeable difference makes it clear that his power spikes and wanes in different parts of the game. Plan accordingly.
You will find him typically laning in the middle position. The highest win rate position for Sylas is middle ([object Object]%). Currently, Sylas's meta game is centered around dealing damage. In particular, his kit should primarily be centered around magical damage. Supporting others and crowd control are the least significant part of Sylas's kit.
You should anticipate having to spend a decent amount of time practicing and learning to pick up Sylas. Many League of Legends players believe he is an average difficulty champion to master. Sylas mostly does magic damage (93% of his total damage). He doesn't deal a lot of other damage types and should not be considered a hybrid damage dealer..
Sylas deals a good amount of damage in a typical match (18,868 damage). You could focus on building him as a damage dealing champion to crush your opponents.
Raised in one of Demacia's lesser quarters, Sylas of Dregbourne has come to symbolize the darker side of the Great City. As a boy, his ability to root out hidden sorcery caught the attention of the notorious mageseekers, who eventually imprisoned him...
If you are looking for a dominating damage dealer, then you should definitely consider this champ. He has one of the absolute best kill totals in the game amongst other champs. 'Moreover, he has a somewhat above average death total with an average of 6.7 deaths per LoL round. Moreover, Sylas's KDA is usually average with an average KDA ratio of 2.1 as well as 6.7 assists per match.
We comb through millions of League of Legends matches pulled directly from Riot's servers each week and analyze the data using advanced algorithms to bring you the most accurate Sylas stats online. We analyze the data by tier, so you can find the most relevant Sylas win rate and other stats.