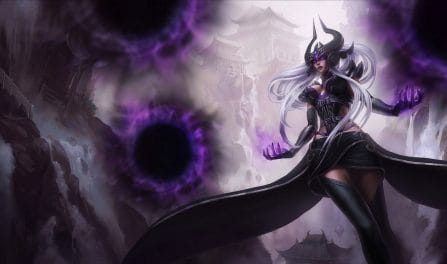 The Best Syndra Runes, Items, and Advice to Dominate Your Competition
49,068 Syndra Builds Analyzed
Best Items for Your

Syndra

Build
The most important items to incorporate into your Syndra build include: Luden's Tempest, Seraph's Embrace, Rabadon's Deathcap, and Cosmic Drive. Additionally, as with our rune suggestions, you can also find great, focused, Syndra item builds further down for the particular enemy team comp you are facing in your current match. Players who included these items in their setups had a greater winrate than players who tried for other builds for Syndra.
Syndra

Items to Defeat Focused Team Comps
Best

Syndra

Runes for Your Next Build

Electrocute

Cheap Shot

Ghost Poro

Relentless Hunter

Manaflow Band

Transcendence
If you are facing a well-mixed enemy team composition, you should strongly consider getting her the Electrocute, Cheap Shot, Ghost Poro, Relentless Hunter, Manaflow Band, and Transcendence runes. In recent matches, she won the largest fraction of her matches when built with these runes. Yet, if you are facing a more single focused enemy team comp, such as an AD focused or a CC centric team, you should instead look further down to find the best Syndra runes to defeat your particular combination of foes.
Syndra

Runes to Beat Dedicated Enemy Teams

Electrocute

Cheap Shot

Eyeball Collection

Ravenous Hunter

Presence of Mind

Coup de Grace
Guide to Playing with

Syndra
Since Syndra's abilities are AOE, it's hard to harass the enemy in lane without pushing the minion wave to the enemy turret. This is not advisable as the minion equilibrium won't be in your favor.
Maximize the damage from Unleashed Power by using it when there are many spheres on the map. It has a low cooldown so feel free to use it liberally.
We came up with our Syndra build suggestions by examining 49,068 recently ranked League matches with her selected. We only propose the highest winrate Syndra builds that have been built by ranked players enough times for us to propose them. With so many matches in our dataset, we are quite confident in our provided builds.
Additionally, to see Syndra builds specific to a unique division, choose a different rank from the dropdown menu located above. In that case, the ideal Syndra build given will be based on that division's meta.