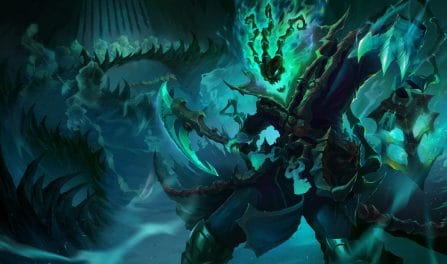 The Best Thresh Runes, Items, and Advice to Dominate Your Competition
165,766 Thresh Builds Analyzed
Best Items for Your

Thresh

Build
The most essential items to incorporate into your Thresh build are: Locket of the Iron Solari, Spirit Visage, Thornmail, and Redemption. Additionally, similar to our rune builds, you can also find great, focused, Thresh item builds farther down for the specific enemy team comp you are facing in your ongoing game. Those who added these pieces in their gear had a higher winrate than those who worked towards other builds for Thresh.
Thresh

Items to Defeat Focused Team Comps
Best

Thresh

Runes for Your Next Build

Predator

Taste of Blood

Zombie Ward

Relentless Hunter

Font of Life

Second Wind
If you are trying to beat a well-mixed enemy team comp, you should strongly consider getting yourself the Predator, Taste of Blood, Zombie Ward, Relentless Hunter, Font of Life, and Second Wind runes. In recent games, he won the greatest fraction of his games when using these runes. However, if you are playing a more single focused enemy team composition, such as an AP focused or a tank centric team, you should instead look a little below to get the best Thresh runes to win your particular match.
Thresh

Runes to Beat Dedicated Enemy Teams

Aftershock

Demolish

Bone Plating

Overgrowth

Future's Market

Cosmic Insight
Guide to Playing with

Thresh
Thresh is primarily a support but excels at disrupting the enemy carry's farm by spamming Death Sentence followed by Flay.
You must perfect the timing of Dark Passage to save your allies. They can get shielded during fights and/or escape if needed.
You can help your team most by focussing your Thresh build on armor and magic resist. Thresh will often be the first to engage the enemy team during a teamfight. You will often be targetted; get enough tank to survive.
We established our Thresh build suggestions by analyzing 165,766 recently ranked LoL rounds with him in them. We only advise the best winrate Thresh builds that have been used by ranked LoL players enough times for us to reccomend them. With so many games in our dataset, we are very confident in our provided builds.
Additionally, to view the best Thresh build from a different skill rank, you can select a different skill tier from the dropdown above. The proposed Thresh builds will change to reflect that skill level's meta.