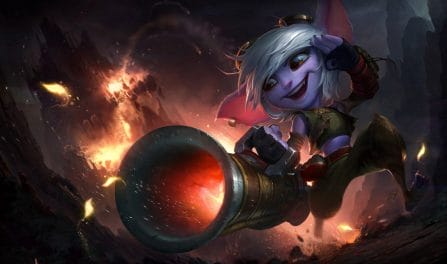 The Best Tristana Runes, Items, and Advice to Dominate Your Competition
206,925 Tristana Builds Analyzed
Best Items for Your

Tristana

Build
The best items to incorporate into your Tristana build are: Kraken Slayer, Infinity Edge, Wit's End, and Stormrazor. Moreover, like our rune recommendations, you can also find great, dedicated, Tristana item builds farther down for the specific enemy team comp you are facing in your current game. Those who included these items in their setups had a greater winrate than those who worked towards other Tristana builds.
Tristana

Items to Defeat Focused Team Comps
Best

Tristana

Runes for Your Next Build

Hail of Blades

Cheap Shot

Eyeball Collection

Ravenous Hunter

Coup de Grace

Legend: Bloodline
If you are facing a mixed enemy team comp, you should strongly consider getting her the Hail of Blades, Cheap Shot, Eyeball Collection, Ravenous Hunter, Coup de Grace, and Legend: Bloodline runes. In recent games, she won the greatest fraction of her games when equiped with these runes. However, if you are playing a more homogenous enemy team composition, such as an AD centric or a tank focused team, you should instead scrollbrowse further down to use the best Tristana runes to win your particular match.
Tristana

Runes to Beat Dedicated Enemy Teams

Press the Attack

Triumph

Legend: Bloodline

Coup de Grace

Sudden Impact

Ravenous Hunter
Guide to Playing with

Tristana
Focus on last hitting with Tristana so that you can farm your items quickly. Explosive Charge makes this an even more important priority.
Before a teamfight, activate Rapid Fire to increase your attack speed and damage output.
We set our Tristana build recommendations by examining 206,925 recently ranked LoL rounds with her selected. We only advise the highest winrate Tristana builds that have been used by ranked League players enough times for us to reccomend them. With so many games in our data, we are very confident in our suggested builds.
Additionally, to get Tristana builds customized to a particular skill level, choose a different rank from the dropdown menu located above. In that case, the proposed Tristana build given will reflect that division's meta gameplay.