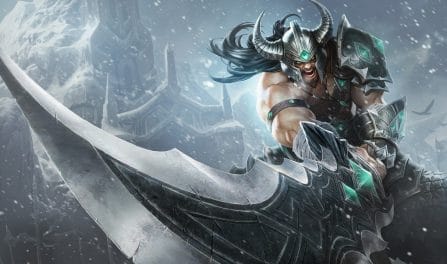 The Best Tryndamere Runes, Items, and Advice to Dominate Your Competition
107,713 Tryndamere Builds Analyzed
Best Items for Your

Tryndamere

Build
The most essential items to include in your Tryndamere build are: Goredrinker, Blade of The Ruined King, Essence Reaver, and Navori Quickblades. Moreover, similar to our rune advice, you can also get great, focused, Tryndamere item builds farther down for the particular enemy team composition you are battling in your current game. Players who added these pieces in their kits had a much better win rate than players who went for other Tryndamere builds.
Tryndamere

Items to Defeat Focused Team Comps
Best

Tryndamere

Runes for Your Next Build

Grasp of the Undying

Demolish

Second Wind

Unflinching

Triumph

Last Stand
If you are facing a mixed enemy team composition, you should strongly consider getting yourself the Grasp of the Undying, Demolish, Second Wind, Unflinching, Triumph, and Last Stand runes. In recent matches, he won the greatest percentage of his games when built with these runes. Yet, if you are fighting a different enemy team composition, such as an AD focused or a CC focused team, you should instead scrollbrowse a little below to see the best Tryndamere runes to defeat your particular set of opponents.
Tryndamere

Runes to Beat Dedicated Enemy Teams

Lethal Tempo

Triumph

Legend: Alacrity

Last Stand

Demolish

Unflinching
Guide to Playing with

Tryndamere
Try to perfect the timing of Undying Rage so that you can force the enemies to overextend while trying to kill you. Then activate to turn the tide of the fight.
Tryndamere's strength comes from being able to crit strike; get items that boost damage and crit chance further to increase his total output.
Our Tryndamere builds come out of our analysis of 107,713 recently ranked Tryndamere rounds. Only the best winrate Tryndamere builds that are also in common use are suggested by us. Because we have so many games in our data, we are absolutelysure that we can show you the highest quality builds for Tryndamere to help you win your next round!
Additionally, Tryndamere builds specific to a unique skill division can be seen by choosing a different rank from the dropdown menu found above. The recommended Tryndamere build shown will be focused on that division's meta.