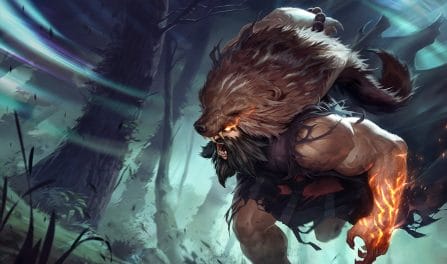 The Best Udyr Runes, Items, and Advice to Dominate Your Competition
36,539 Udyr Builds Analyzed
Best Items for Your

Udyr

Build
The most important items to include in your Udyr build are: Divine Sunderer, Sterak's Gage, Frozen Heart, and Force of Nature. Yet, similar to our rune setups, you can also get quality, focused, Udyr item builds further down for the particular enemy team comp you are facing in your ongoing game. Those who included these pieces in their kits had a better win rate than those who utilized other builds for Udyr.
Udyr

Items to Defeat Focused Team Comps
Best

Udyr

Runes for Your Next Build

Press the Attack

Triumph

Legend: Tenacity

Coup de Grace

Relentless Hunter

Taste of Blood
If you are trying to beat a well-mixed enemy team composition, you should really consider grabbing him the Press the Attack, Triumph, Legend: Tenacity, Coup de Grace, Relentless Hunter, and Taste of Blood runes. In recent games, he won the greatest fraction of his games when using these runes. Yet, if you are facing a more homogenous enemy team comp, such as an AD centric or a CC centric team, you should instead look further down to get the best Udyr runes to win your particular match.
Udyr

Runes to Beat Dedicated Enemy Teams

Press the Attack

Triumph

Legend: Alacrity

Coup de Grace

Waterwalking

Celerity
Guide to Playing with

Udyr
Udyr is one of the best junglers in the game and early game you should focus on leveling up quickly to give your team a significant XP advantage.
Turtle Stance and Bear Stance provides enhanced movement speed and healing. You can use this to dive an enemy champion or escape a gank if you're farming in the jungle.
Very few champs can keep pace with Udyr. Once your on an enemy, they have very little chance to get away. At a certain skill level, most players will realize this and will turn to fight to the death. Make sure you can win before you chase them down.
Our Udyr builds come from our analysis of 36,539 recently ranked Udyr games. Only the best winrate Udyr builds that are also commonly used are suggested by us. Because we have so many matches in our dataset, we are very confident that we can produce high quality builds for Udyr to help ensure you win your next match!
Additionally, to view the top Udyr build from a different skill level, please pick a different skill tier from the dropdown menu above. The recommended Udyr builds will change to characterize that division's meta.