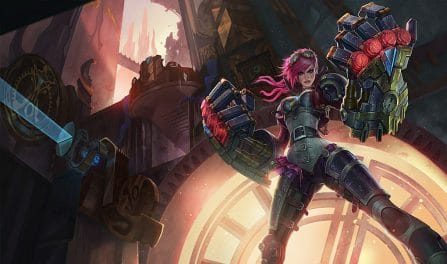 The Best Vi Runes, Items, and Advice to Dominate Your Competition
63,436 Vi Builds Analyzed
Best Items for Your

Vi

Build
The best items to use in your Vi build include: Deicide, Guardian Angel, Sterak's Gage, and Black Cleaver. Moreover, similar to our rune advice, you can also get great, dedicated, Vi item builds below for the specific enemy team composition you are facing in your current game. Those who included these items in their builds had a much better winrate than players who worked towards other builds for Vi.
Vi

Items to Defeat Focused Team Comps
Best

Vi

Runes for Your Next Build

Hail of Blades

Sudden Impact

Eyeball Collection

Ravenous Hunter

Nimbus Cloak

Waterwalking
If you are playing a mixed enemy team composition, you should really consider grabbing her the Hail of Blades, Sudden Impact, Eyeball Collection, Ravenous Hunter, Nimbus Cloak, and Waterwalking runes. In recent matches, she won the greatest fraction of her matches when equiped with these runes. However, if you are fighting a more homogenous enemy team composition, such as an AP centric or a tank focused team, you should instead look further down to view the best Vi runes to win your particular round.
Vi

Runes to Beat Dedicated Enemy Teams

Aftershock

Shield Bash

Conditioning

Unflinching

Triumph

Legend: Alacrity
Fully charge up Vault Breaker to deal maximum damage. However, if all you need to do is interrupt or CC your enemy, you can release it much sooner.
Vi is a great engage champion. However, don't get too cocky and dive into the enemy backline without assistance.
Use Assault and Battery to initiate teamfights and make sure your team is close behind.
We set our Vi build recommendations by analyzing 63,436 recently ranked League of Legends matches with her selected. We only propose the highest winrate Vi builds that were used by ranked gamers enough times for us to advise them. With so many rounds in our dataset, we are quite confident in our suggested builds.
Additionally, to see Vi builds specific to a particular skill level, choose a different rank from the dropdown menu located above. If you change the selection, the ideal Vi build given will be based on that division's meta.