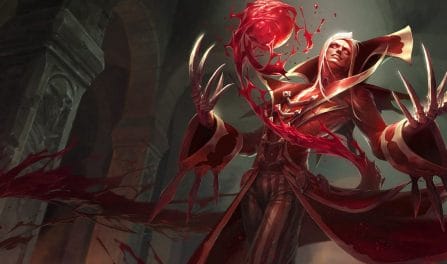 The Best Vladimir Runes, Items, and Advice to Dominate Your Competition
57,054 Vladimir Builds Analyzed
Best Items for Your

Vladimir

Build
The most critical items to include in your Vladimir build are: Upgraded Aeropack, Rabadon's Deathcap, Void Staff, and Cosmic Drive. Moreover, similar to our rune suggestions, you can also get quality, dedicated, Vladimir item builds further down for the particular enemy team composition you are battling in your current match. Those who included these items in their kits had a greater winrate than players who worked towards other builds for Vladimir.
Vladimir

Items to Defeat Focused Team Comps
Best

Vladimir

Runes for Your Next Build

Phase Rush

Nullifying Orb

Transcendence

Scorch

Magical Footwear

Cosmic Insight
If you are battling a mixed enemy team comp, you should strongly consider getting Vladimir the Phase Rush, Nullifying Orb, Transcendence, Scorch, Magical Footwear, and Cosmic Insight runes. In recent matches, he won the greatest fraction of his rounds when using these runes. However, if you are battling a more homogenous enemy team composition, such as an AD focused or a CC focused team, you should instead look a little below to see the best Vladimir runes to defeat your particular enemy team.
Vladimir

Runes to Beat Dedicated Enemy Teams

Phase Rush

Nimbus Cloak

Transcendence

Gathering Storm

Future's Market

Magical Footwear
Guide to Playing with

Vladimir
Vladimir's ultimate, Hemoplague, is most effective when cast during teamfights on as many enemy champions as possible.
When you anticipate an engagement with your enemy lane partner, keep one stack of Bloodthirst so that you get the empowered Transfusion when you cast it.
We set our Vladimir build suggestions by examining 57,054 recently ranked League games with him in them. We only recommend the best winrate Vladimir builds that have been used by ranked gamers enough times for us to advise them. With so many matches in our dataset, we are confident in our suggested builds.
Additionally, Vladimir builds specific to a particular skill rank can be seen by selecting another division from the dropdown menu located above. The suggested Vladimir build shown will be specific to that tier's meta.