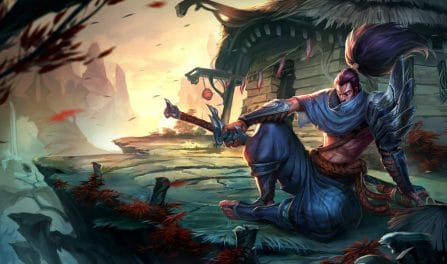 The Best Yasuo Runes, Items, and Advice to Dominate Your Competition
242,203 Yasuo Builds Analyzed
Best Items for Your

Yasuo

Build
The best items to incorporate into your Yasuo build include: Kraken Slayer, Infinity Edge, Wit's End, and Death's Dance. Furthermore, like our rune suggestions, you can also get great, focused, Yasuo item builds farther down for the specific enemy team comp you are battling in your ongoing game. Players who included these items in their setups had a greater win rate than those who went for other Yasuo builds.
Yasuo

Items to Defeat Focused Team Comps
Best

Yasuo

Runes for Your Next Build

Fleet Footwork

Triumph

Legend: Alacrity

Last Stand

Bone Plating

Unflinching
If you are battling a varied enemy team composition, you should really consider grabbing Yasuo the Fleet Footwork, Triumph, Legend: Alacrity, Last Stand, Bone Plating, and Unflinching runes. In recent matches, he won the largest percentage of his games when equiped with these runes. However, if you are playing a more homogenous enemy team composition, such as an AD centric or a CC heavy team, you should instead scrollbrowse below to get the best Yasuo runes to defeat your particular set of opponents.
Yasuo

Runes to Beat Dedicated Enemy Teams

Conqueror

Triumph

Legend: Alacrity

Last Stand

Second Wind

Revitalize
Guide to Playing with

Yasuo
Time WindWall correctly to block the majority of enemy attacks and abilities.
Synergize Last Breadth with any knock-up ability from your teammates for maximum combos.
Our Yasuo builds come from our examination of 242,203 recently ranked Yasuo rounds. Only the top winrate Yasuo builds that are also in common use are recommended by us. Since we have so many games in our dataset, we are absolutelysure that we can give you high quality builds for Yasuo to help you win your next game!
Additionally, to see Yasuo builds tailored to a particular skill level, pick a different division from the dropdown menu found above. In that case, the recommended Yasuo build given will capture that division's meta.