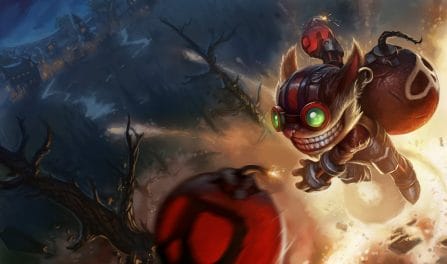 The Best Ziggs Runes, Items, and Advice to Dominate Your Competition
128,160 Ziggs Builds Analyzed
Best Items for Your

Ziggs

Build
The most essential items to use in your Ziggs build include: Liandry's Anguish, Seraph's Embrace, Rabadon's Deathcap, and Banshee's Veil. Moreover, as with our rune recommendations, you can also find great, dedicated, Ziggs item builds further down for the particular enemy team composition you are fighting in your ongoing match. Those who included these items in their setups had a better win rate than those who tried for other Ziggs builds.
Ziggs

Items to Defeat Focused Team Comps
Best

Ziggs

Runes for Your Next Build

Arcane Comet

Manaflow Band

Transcendence

Scorch

Time Warp Tonic

Magical Footwear
If you are fighting a varied enemy team composition, you should strongly consider getting him the Arcane Comet, Manaflow Band, Absolute Focus, Gathering Storm, Perfect Timing, and Biscuit Delivery runes. In recent games, he won the largest fraction of his matches when equiped with these runes. However, if you are fighting a more single focused enemy team comp, such as an AD heavy or a CC centric team, you should instead scrollbrowse a little below to get the best Ziggs runes to win your particular round.
Ziggs

Runes to Beat Dedicated Enemy Teams

Arcane Comet

Manaflow Band

Transcendence

Gathering Storm

Biscuit Delivery

Time Warp Tonic
Guide to Playing with

Ziggs
In LoL, Ziggs can use Hexplosive Minefield to slow down his enemies and set up other abilities/combos.
Ziggs has a lot of range. With his Q, you can last hit and poke from beyond just about any enemy champion's range. Don't put yourself in unnesessary danger. Poke from range. If your enemy does get too close, you can either slow them down or launch them away with your other abilities.
Save Satchel Charge to escape from enemies or chase down enemies. You can also use it to stop your lane opponent from escaping your team's gank. When using Satchel Charge to help take down a tower, make sure you don't use it too early, or it will be wasted. There's a very strict cutoff for it to deal its bonus damage.
Our Ziggs builds result from our examination of 128,160 recently ranked Ziggs matches. Only the best win rate Ziggs builds that are also in common use are advised by us. Because we have so many rounds in our dataset, we are confident that we can generate the highest quality builds for Ziggs to help you win your next game!
Additionally, to see the best Ziggs build from a different skill rank, you can pick a different skill tier from the dropdown above. The ideal Ziggs builds will update to characterize that skill level's meta.