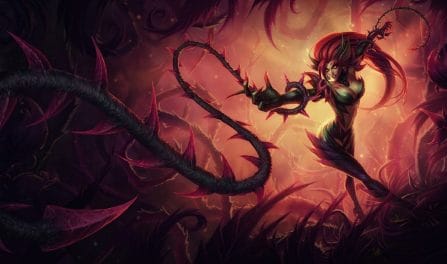 The Best Zyra Runes, Items, and Advice to Dominate Your Competition
111,293 Zyra Builds Analyzed
Best Items for Your

Zyra

Build
The most essential items to include in your Zyra build include: Luden's Tempest, Rabadon's Deathcap, Zhonya's Hourglass, and Demonic Embrace. Moreover, as with our rune builds, you can also get great, focused, Zyra item builds farther down for the particular enemy team composition you are battling in your current game. Those who added these pieces in their builds had a higher win rate than players who went for other builds for Zyra.
Zyra

Items to Defeat Focused Team Comps
Best

Zyra

Runes for Your Next Build

Electrocute

Taste of Blood

Zombie Ward

Relentless Hunter

Manaflow Band

Transcendence
If you are facing a varied enemy team comp, you should strongly consider getting her the Electrocute, Taste of Blood, Zombie Ward, Relentless Hunter, Manaflow Band, and Transcendence runes. In recent matches, she won the greatest fraction of her rounds when using these runes. However, if you are playing a more single focused enemy team composition, such as an AP centric or a CC centric team, you should instead look below to view the best Zyra runes to defeat your particular enemy team.
Zyra

Runes to Beat Dedicated Enemy Teams

Electrocute

Cheap Shot

Ghost Poro

Ultimate Hunter

Manaflow Band

Scorch
Guide to Playing with

Zyra
Use Seeds to provide vision for your team. There's no more need to blind, face-check bushies when you are Zyra.
Position your skills near Seeds to grow Thorn Spitters that deal a lot of damage.
Your Zyra Ultimate will empower your other plants. Try to use it within range of your other plants to maximize its utility. It is more than just a massive AoE knockup.
Our Zyra builds result from our analysis of 111,293 recently ranked Zyra matches. Only the top win rate Zyra builds that are also in common use are recommended by us. Because we have so many rounds in our data, we are absolutelysure that we can show you high quality builds for Zyra to help ensure you win your next match!
Additionally, to view the top Zyra build from a different skill division, please pick a different one from the dropdown above. The proposed Zyra builds will change to reflect that skill level's meta.