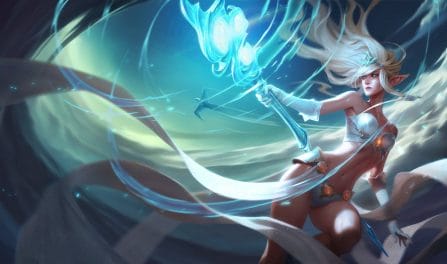 The Best Janna Runes, Items, and Advice to Dominate Your Competition
45,728 Janna Builds Analyzed
Best Items for Your

Janna

Build
The most critical items to include in your Janna build include: Shurelya's Battlesong, Chemtech Putrifier, Frozen Heart, and Ardent Censer. Moreover, as with our rune advice, you can also get quality, focused, Janna item builds farther down for the specific enemy team comp you are fighting in your current game. Those who added these items in their builds had a better winrate than players who went for other Janna builds.
Janna

Items to Defeat Focused Team Comps
Best

Janna

Runes for Your Next Build

Arcane Comet

Manaflow Band

Celerity

Waterwalking

Relentless Hunter

Cheap Shot
If you are fighting a varied enemy team comp, you should strongly consider getting her the Arcane Comet, Manaflow Band, Celerity, Waterwalking, Relentless Hunter, and Cheap Shot runes. In recent matches, she won the largest percentage of her matches when using these runes. However, if you are trying to beat a different enemy team comp, such as an AD heavy or a tank focused team, you should instead look a little down to use the best Janna runes to defeat your particular set of opponents.
Janna

Runes to Beat Dedicated Enemy Teams

Summon Aery

Manaflow Band

Celerity

Scorch

Relentless Hunter

Eyeball Collection
Guide to Playing with

Janna
Janna is an excellent support who can shield teammates and increase a teammate's damage with Eye of the Storm .
Monsoon pushes enemy champions back and provides your team an opportunity to escape if a teamfight is not going well.
Our Janna builds come from our examination of 45,728 recently ranked Janna games. Only the top win rate Janna builds that are also commonly used are recommended by us. Because we have so many games in our database, we are quite confident that we can provide the highest quality builds for Janna to help you win your next match!
Additionally, Janna builds specific to a particular skill division can be displayed by picking another division from the dropdown menu found above. The recommended Janna build shown will be focused on that division's meta.
Should I build Janna with lots of AP?
Janna is a very strong support that is able to provide both crowd control as well as great ally buffs. It's usually best to stick with support items for your Janna build that synergize well with her shield and heal than trying to do much damage with Janna herself.