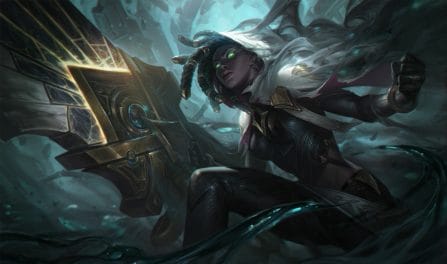 Champion Statistics and Meta Breakdown for Senna in LoL
195,509 Senna Matches Analyzed
These champion stats were determined using 195,509 recently played, ranked Senna games. MOBA Champion downloads competitive game data directly from Riot's servers. Having a large number of LoL games to analyze gives us great confidence in our ability to provide accurate Senna stats. Across all games, Senna didn't perform very well, with an average win rate of 49.5%.
In the current meta, Senna is very popular. She has been played in 6.5% of recently ranked rounds. Hardly anyone sees her as a threat. She has only been banned in approximately 4.9% of LoL rounds.
If you are looking for a dominating carry, then you should maybe consider this champion. She has the 7th highest kill rate in the game among all supports. (29 total champs are most commonly played in the support position.) Moreover, she has a fairly typical death total with an average of 6 deaths per League of Legends game (11th out of all supports). Furthermore, Senna has a high KDA ratio (2.7) with 12 assists (19th amongst all support type champs).
Our calculated overall Senna win rate is the 23rd highest amonst supports. She is most dominating in the late phase of the game with a 52.1% win rate in that phase. In contrast, she has a 49.4% win rate in the early phase and a 49.5% win rate overall. There is only a small difference between these Senna win rates (2.7%). This sizeable difference makes it clear that her power spikes and wanes in different parts of the match. Prepare accordingly.
You will see her most often laning in the support position. However, that is not the best position for her. The best win rate position for Senna is bottom (49.8%). Currently, Senna's meta game is focused on dealing damage. Specifically, her gameplay should mainly be centered around physical damage. Additionally, she is an ok damage dealer champ. Tanking is the least critical part of Senna's gameplay.
If you are not used to Senna's abilities and tactics, you may find it difficult picking her up for the first time. Most players consider her to be a tough champ to pick up. Senna mostly causes physical damage (92% of her total damage). She doesn't deal a significant amount of magical damage and should not be considered a hybrid damage dealer.
Senna deals a decent amount of damage in a typical match (15,301 damage). You could focus on building her as a damage dealing champion to smash your opponents.
Cursed from childhood to be haunted by the supernatural Black Mist, Senna joined a sacred order known as the Sentinels of Light, and fiercely fought back—only to be killed, her soul imprisoned in a lantern by the cruel wraith Thresh. But refusing to...
We comb through millions of League of Legends matches pulled directly from Riot's servers each week and analyze the data using advanced algorithms to bring you the most accurate Senna stats online. We analyze the data by tier, so you can find the most relevant Senna win rate and other stats.