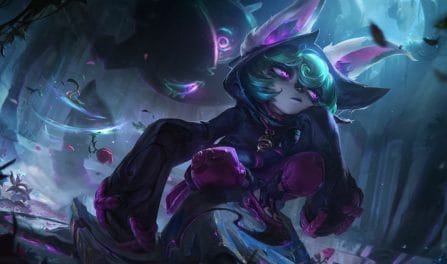 Best Vex Items, Runes, and Tips to Win Your Next Game
11,476 Vex Builds Analyzed
We set our Vex build recommendations by analyzing 11,476 recently ranked League of Legends games with them in them. We only advise the best winrate Vex builds that were built by ranked gamers enough times for us to reccomend them. With so many games in our data, we are confident in our recommended builds.
Additionally, to get Vex builds dedicated to a unique division, select a different division from the dropdown menu above. In that case, the best Vex build given will capture that division's meta gameplay.
Best Items for Your

Vex

Build
The best items to include in your champ's build include: Luden's Tempest,Rabadon's Deathcap, and Zhonya's Hourglass. Those who included these items in their gear had a higher win rate than players who worked towards other Vex builds.
Additionally, as with our rune suggestions, you can also find great, dedicated, Vex item builds a little further down for the specific enemy team composition you are battling in your ongoing game.
Vex

Items to Defeat Focused Team Comps
Best

Vex

Runes for Your Next Build

Dark Harvest

Cheap Shot

Eyeball Collection

Ultimate Hunter

Manaflow Band

Transcendence
If you are playing a mixed enemy team comp, you should really consider grabbing them the Domination, and Sorcery runes. In recent games, they won the largest percentage of their matches when using these runes.
Yet, if you are facing a more homogenous enemy team comp, such as an AD focused or a crowd control centric team, you should instead browse further down to view the best Vex runes to defeat your particular enemy team.
Vex

Runes to Beat Dedicated Enemy Teams

Electrocute

Taste of Blood

Eyeball Collection

Ultimate Hunter

Biscuit Delivery

Time Warp Tonic