Best Yuumi Skin Review: Looking Purrrrfect
Published: October 12, 2021
•
Updated: October 4, 2022
Are you a Yuumi main wondering which Yuumi skin to pick? We're here to assist you just with that! Every Yuumi skin is shown here, comparing what they each bring, and the list is ranked from worst to best Yuumi skin. That way, you'll get to ride your ADC-taxi while looking dapper!
An Overview of Yuumi
Yuumi, the Magical Cat, is a very unique support that changes the rules of the game when she isn't curled up on the bench. She attaches to an ally, gives them health and utility buffs, and casts spells from there while being untargettable. At the cost of being extremely weak on her own, she makes one strong ally become unstoppable.
At the same time, Yuumi has more skill depth than people giving her credit for. Yuumi is defenitely not a great beginner champion in League of Legends.
However, useful or not, a sleeping cat is cute nonetheless, and these skins will help with that aspect regardless of your proficiency with the champion.
4. Battle Principal Yuumi (1350 RP)
Unlike Jax skins or Morgana skins, whose older variants show their age, the Yuumi skins all have good quality. And since all of them are Epic skins, each of them roughly has the same features.
So while the four of them are similar in terms of quality, a ranking has to start somewhere and must have a lowest entry.
Battle Principal Yuumi will be the lowest Yuumi skin. It changes the shape of each of her abilities as well as their colors, using a blue and golden color scheme. The aesthetics are futuristic and with technological accents, and her sound effects go in that same direction while also being more pronounced and shocking than on her base skin.
The skin will, however, have the last place for two reasons. It provides the fewest improvements compared to the other skins. Despite changing the color of each ability, it retains a similar color scheme to Yuumi's yellow and blue base skin.
Our Favorite Battle Principal Yuumi Chromas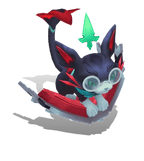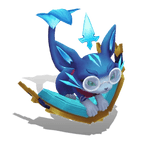 3. Heartseeker Yuumi (1350 RP - Legacy)
The third best Yuumi skin is her Valentine's Day one. Yuumi becomes white and pink, and like the previous skin, this one also changes all of her animations, making them pink and giving them love-related accents.
The third best Yuumi skin is her Valentine's Day one. Yuumi becomes white and pink, and like the previous skin, this one also changes all of her animations, making them pink and giving them love-related accents.
The projectile of her Q and the VFX of her heal both become hearts, and the shapes that her ult makes appear also become various symbols of the same theme. On top of this, her Q spreads rose petals and her shield becomes pink and golden.
It's a good skin with a pretty and unique color scheme, but it's kept below the next two by the fact that those receive additional features.
Best Chromas for this Yuumi Skin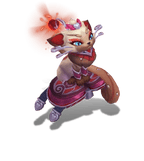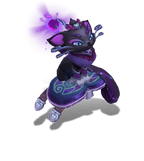 2. Yuubee (1350 RP)
As the runner-up for the Yuumi skins, Yuubee offers more than the previous two options. On that skin, she wears a bee onesie, and all of her visuals are honey-themed and have a warm yellow color.
But what makes this skin stand out is that it has two extra effects that the base or previous skins don't have. When using her attached Q, beehive hexagons appear in the range indicator, and a flower shows the buff from her E under the champion's feet.
Favorite Chromas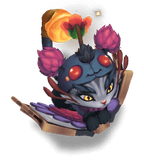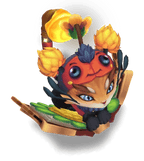 1. Bewitching Yuumi (1350 RP)
The cat just received a new skin, and it happens to be the highest quality Yuumi skin to date! This skin has purple, green, and orange effects, as well as witch-themed particles on her abilities such as bats and pumpkins.
This Yuumi skin also distinguishes itself thanks to effects that the others don't have. In this case, the Q changes colors once it reaches the empowered distance, and the passive shield has a different look when given to an ally rather than to Yuumi herself.
All in all, this skin is very detailed, and the association of three colors lets her abilities feel both unique and coherent.
The Best Chromas for the Best Yuumi Skin: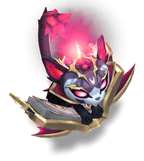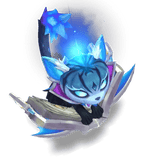 We hope this helped you choose your Yuumi skin! Make sure to let us know if your own preferences differ from this list, and check out our Yuumi ARAM runes guide if you wish to improve your skills after your skins.
Lastly, if you are looking for other awesome League of Legends skins, take a look at our pick for the best morgana skin.
Images Courtesy of Riot Games.