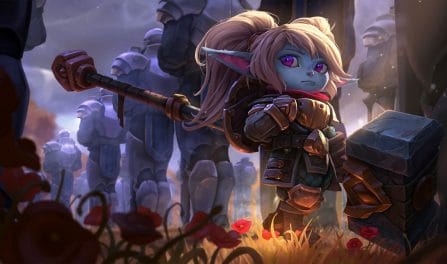 The Best Poppy Runes, Items, and Advice to Dominate Your Competition
43,098 Poppy Builds Analyzed
Best Items for Your

Poppy

Build
The most critical items to incorporate into your Poppy build include: Divine Sunderer, Abyssal Mask, Spirit Visage, and Force of Nature. Moreover, as with our rune setups, you can also get great, focused, Poppy item builds below for the specific enemy team comp you are facing in your ongoing match. Players who added these pieces in their setups had a much higher win rate than players who worked towards other builds for Poppy.
Poppy

Items to Defeat Focused Team Comps
Best

Poppy

Runes for Your Next Build

Grasp of the Undying

Font of Life

Conditioning

Revitalize

Coup de Grace

Legend: Tenacity
If you are playing a mixed enemy team composition, you should really consider grabbing yourself the Grasp of the Undying, Font of Life, Conditioning, Revitalize, Coup de Grace, and Legend: Tenacity runes. In recent games, she won the greatest fraction of her games when equiped with these runes. Yet, if you are facing a more homogenous enemy team comp, such as an AP heavy or a CC focused team, you should instead scrollbrowse a little down to use the best Poppy runes to win your particular game.
Poppy

Runes to Beat Dedicated Enemy Teams

Dark Harvest

Cheap Shot

Eyeball Collection

Relentless Hunter

Coup de Grace

Triumph
Guide to Playing with

Poppy
Hammer Shock deals high burst damage. Use it liberally in lane to prevent your opponent from last hitting.
Poppy has good crowd control potential; try dragging enemy assassins out of teamfights to let your carries pick off their weak targets.
We calculated our Poppy build suggestions by examining 43,098 recently ranked League games with her in them. We only propose the best winrate Poppy builds that were used by ranked League players enough times for us to advise them. With so many rounds in our dataset, we are very confident in our provided builds.
Additionally, to see the best Poppy build for a different skill level, you can pick a different one from the dropdown menu above. The ideal Poppy builds will update to reflect that division's meta.