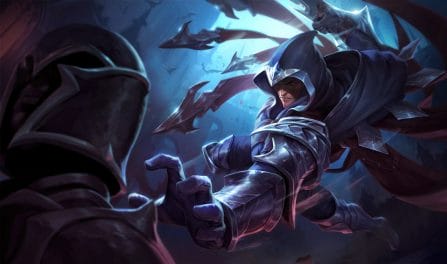 The Best LoL Champions to Synergize and Counter Talon
109,881 Talon Counters and Matchups Analyzed
We calculated the best and worst Talon counters using stats extract from 109,881 ranked LoL matches. We have figured out those champions with the highest and lowest rates of victory versus him. Furthermore, we have calculated which champions can serve as great allies to help you win more League games.
As shown above, Graves is the best challenger for Talon with a 53.3% win percentage against him. In a close second and third place, Pantheon and Lux are the next greatest counters to Talon. These two champs have win rates of 53.2% and 53.2%, respectively. You should not take him into a game where one of these champs has been chosen.
Conversely, if you're fighting Kassadin, you probably should anticipate doing much better. Talon counters them with a solid win percentage of 53.6%. Equally, you should expect to do very well when facing Twisted Fate and Akali. They have the next poorest win rates against Talon.
If you are interested in good champ synergies for your own teammates to increase your win rate even further, take a peek at at our Talon synergies.
Regardless of his lane, he does very well when paired with Ekko. This pairing typically increases his chances of winning by a few percent. Ziggs and Zyra are also superb champions to pair with.
If you would like to learn more about a specific Talon counter, as well as the greatest builds to employ in that situation, please click the related row in the tables above. If the specific Talon counters you are looking for are not visible below, you may get all potential counters at the link above.
To restrict the Talon counters to a specific ranked division only, select the desired skill level from the dropdown above. The provided champion counters and synergies will update.
We comb through millions of League of Legends matches pulled directly from Riot's servers each week. We analyze the data using advanced algorithms to bring you the most accurate Talon counters online.
Guide to Countering

Talon
Talon has high burst damage potential. Build items that provide armor and health to give yourself more sustain.
Don't fall too low on HP during the laning phase, because Talon can burst you down.